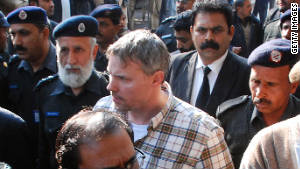 Douglas County (US), Oct 3(
ANI
):
Raymond Davis
, the
Central Intelligence Agency
(CIA) contractor who was freed from a Pakistani prison after the United States paid 2.3 million dollars in
blood money
, has been charged with third-degree assault and disorderly conduct for allegedly fighting with another man over a parking spot in Colorado.
Davis was arrested outside an
Einstein Bros Bagels
at the Town Center at Highlands Ranch, at
Highlands Ranch Parkway
and South Broadway on Saturday.
He was later released after posting a 1,750 dollars bond, the Express Tribune reports.
It is reported that Davis and another man with him had been arguing with a third man about a parking spot when the verbal argument escalated into a physical altercation.
In the argument, Davis was the aggressor.
Earlier, on January 27, Davis had killed two reportedly armed men in Lahore.
Although the US government contended that he was protected by diplomatic immunity because of his employment with the US Consulate in Lahore, Davis was jailed and criminally charged by Pakistani authorities with double murder and the illegal possession of a firearm.
A third Pakistani man was also killed "in a hit and run" when a car sped down the wrong side of the road on its way to aid Davis.
On March 16, Davis was released after the families of the two killed men were paid 2.4 million dollars in diyya (a form of monetary compensation or blood money).
Judges then acquitted him on all charges and Davis immediately departed Pakistan. (ANI)